Introducing our exquisite Laser Cut Gate Design with Arabic Calligraphy, a stunning fusion of intricate craftsmanship and timeless elegance. This unique product showcases the beauty of Arabic calligraphy, adding a touch of cultural richness to your space.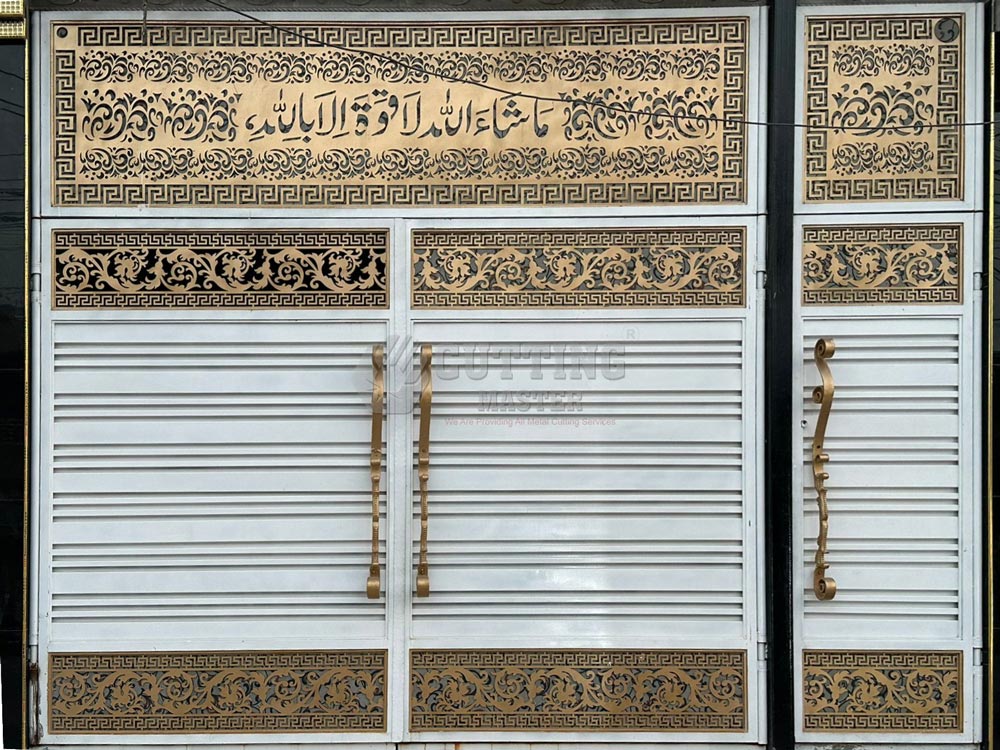 Our Laser Cut Gate Design is meticulously crafted using state-of-the-art laser cutting technology, ensuring precise and intricate patterns. The Arabic calligraphy is intricately engraved, creating a captivating visual display that showcases the beauty and artistic heritage of the Arabic language.
Designed with both aesthetics and functionality in mind, our gate design offers a perfect balance of style and security. The robust construction guarantees durability and strength, providing reliable protection for your property while adding a touch of sophistication to your entrance.
The Arabic calligraphy adds a sense of uniqueness and exclusivity to your gate, making it a standout feature in any architectural setting. The carefully chosen phrases or verses can be customized to suit your preferences, creating a personalized and meaningful touch to your design.
Crafted from high-quality materials, our Laser Cut Gate Design is built to withstand the elements and ensure long-lasting performance. The materials used are selected for their durability, resistance to corrosion, and low maintenance requirements, providing you with a gate that stands the test of time.
Installation is made hassle-free with our professional team of experts. They will ensure that the gate is securely and precisely installed, guaranteeing a seamless integration with your property. We prioritize your satisfaction and strive for excellence in every aspect of our service.
Not only does our Laser Cut Gate Design with Arabic Calligraphy offer exceptional beauty and security, but it also serves as a statement piece that reflects your appreciation for art, culture, and timeless design. It becomes a focal point, creating a lasting impression on visitors and enhancing the overall aesthetic of your property.
Transform your entrance with the mesmerizing elegance of our Laser Cut Gate Design with Arabic Calligraphy. Immerse yourself in the artistic beauty and cultural significance that it brings, leaving a lasting impression on all who pass through. Contact us today to discuss your customization options and let us bring your vision to life.